Foxx Tone Machine
A clone of the fOXX Tone Machine. With germanium diodes, one stompswitch for octave on/off and one for true bypass.  DC jack with positive center and battery space, all hosted in a 1590BB size enclosure dressed in purple velvet.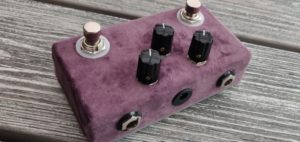 ---
R.M Octavia
Octave up pedal, based on the R.M Octavia. The soundfile is contributed by Magic.
---
Pearl Octaver OC-07
Nice octave pedal which I cloned from the original schematic, though I omitted the bypass switching and made it truebypass.
---