Electro Harmonix Nano Pog preset mod
This mod adds a second row of controls, a footswitch and a 10mm indicator led to select between row one (stock) and row two (preset) settings. Idnicated by the 10mm led, blue or green depending wich row is active.
---
Morley Power Wah Volume boost mod
Here's a mod for the Morley Power Wah Volume pedal. The mod places the boost as a stand alone circuit, giving the option to toggle it in with an extra stompswitch installed with a LED indicator for effect on. It affects both volume and wah circuit in this configuration.
---
Boss pedal ACA to PSA mod
Updating old boss pedals for PSA adapter.
---
ZOOM MS-70CDR custom paint
A custom paintjob on a ZOOM MS-70CDR Multistomp pedal.
---
Boss DS-1 OD mod
Turning the Boss DS-1 into something more of an overdrive, giving it a more dynamic response. Changes are made to the transistor booster stage, OP-amp gain stage and the overall frequency respons. Check Thomas Ziden as he gives an somewhat unusual pedal demo.
---
Boss pedal latching/momentary mod
Ever since I made the T-rex Mudhoney 2:nd stage mod the idea has been there to try something similar on a Boss or Ibanez pedal. So here it is on a Boss DS-1 pedal, the feature to choose a latching or momentary bypass. The mod can be performed on any model from Boss or Ibanez that's using their standard toggle circuit.
---
Ibanez WH10 Volume mod
Added a volume pot to an Ibanez WH10 wah pedal. Effecting the volume when the effect is engaged.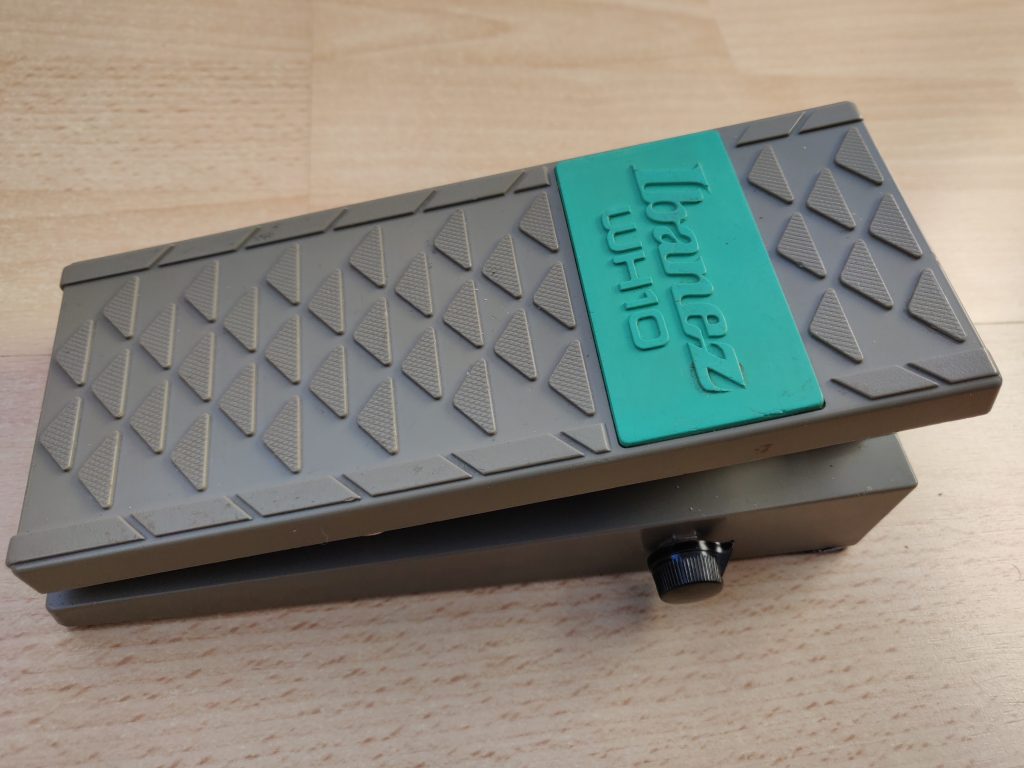 ---
T-Rex Mudhoney 2:nd stage mod
2:nd stage mod of the T-rex Mudhoney. Installing a threeway switch wich in uper pos lets the circuit clip over AA144 germanium diodes, middlepos no diodes and down pos silicone diodes. Replaced the Boost switch with a stompswitch and a indicating led in its original position. Added an 2:nd circuit board that controls the fet bypass circuitry and has the option of using the stompswitch action as normal latching or momentary. Finaly a Tune pot to balance the gain against the Boost. More Info here.
---
Univox Uni-Tron 5
Since the Uni-Tron5 pedal requires two 9V batteries I had it modified with a charge pump allowing it to take a normal 9VDC adapter or one single battery. In the now empty battery compartment I added a pot for the output volume.
---
T-rex Mudhoney 1:st stage mod
Mod of a T-Rex Mudhoney. Installed a threewayswitch wich in left pos lets the circuit clip over red leds, centerpos no diodes and right pos silicone diodes. Replaced the Boost switch with a stompswitch and a indicating led in its original position.
---
Rehousing
Added some images from a rehousing project of a Danelectro Transparent Overdrive.
---
Boss CE-2
The classic Boss CE-2 chorus moded with chorus/vibrato switch and a speed range selector switch.
---